Wine & Food Deliveries Near You!
As you know we are still open for business and keen to help everyone with their booze needs over the next few difficult weeks. To this end, we are offering a resource, namely a list of retailers, independent merchants, regional wholesalers, delis, and restaurants repurposed as food and wine delivery companies that you can contact for your wine deliveries. This list will change constantly as circumstance dictates, but we are keen that customers support their local businesses as far as possible.
If you are a retailer, and not on this list, please contact [email protected] and we will add you to it. If your circumstances change, please let us know also, so we can be as up-to-date as is possible.
LIST OF BUSINESSES RETAILING WINE, SPIRITS (& FOOD ON OCCASION)
LONDON
Terroirs – East Dulwich. Wine available for collections. MARKET includes fresh fruit & veg, eggs, & bread. Also offering delicious TAKEAWAY every week. Chef Filippo will prepare at least 3 takeaway options for you to choose from. Pre-order only. Please click here for full details.
Berber & Q have started a crowd-funding campaign to convert their restaurants into a meal delivery service for the NHS. Details of which can be found here.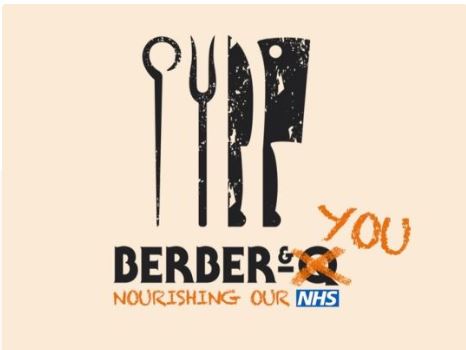 Vagabond - online shop is operating
Vagabond in Northcote Road, SW11, are now open for takeaways – Monday-Sunday 11.00 am – 7.00 pm. T. 0207 738 0540
Hop Burn and Black - Deliveries around the UK and free delivery over £40 for local postcodes. shop.hopburnsblack.co.uk Deliveroo offered more info here
Real Ale - All shops (Maida Vale, Twickenham, Golborne Road) – Open as usual. Deliveroo offered.
Park Vintners – Open as usual. Local home delivery offered
Smoking Goat – Restaurant closed but looking to offer takeaway.
Park and Bridge/Vindinsta – operating as usual. Shop only. Local deliveries available.
Askewine – business as usual. Also has cheese, charcuterie etc. More details here.
Handford Wines, South Kensington – open by appt. to collect with delivery service.
Dvine Cellars – t. 07952 154 794 or e. [email protected], deliveries (free for above £50).
Philglas & Swiggot – Extensive wine and spirits selection. Delivery & collection – t. 020 7924 4494
Shed – business as usual both shops. Clapham South and Haggerston,
Les Caves de Bruno – Offering home deliveries from next week
Wild & Lees – take away in shop in Herne Hill or deliveries (email [email protected] or phone 07985 218 570)
Garden Café – Take-away and local delivery – t. 020 3640 9322 or e. [email protected]
Salthouse Bottles – same day delivery in Brockley and 48 hours in Nunhead, Honor Oak Park, Crofton Park, New Cross and Ladywell. We're accepting orders elsewhere within a 10 minute drive, but we ask customers to check with us first.
Drop Wines – Wide selection of great wines, delivered same day. Delivery via app , details of which found here.
Whole Foods Market (Kensington, Clapham, Fulham, Richmond, Stoke Newington, Camden)
Lechevalier, London Bridge (wine, beer, cheese, bread, charcuterie) – take away & delivery by byke locally. Call: 020 73787778
London Cheesemongers (cheese, wine, beers, butter, eggs, cream). Take away @ shop in Sloane Sq. or home delivery (order over the phone 020 7730 2088).
Hedonism – in store or free UK delivery (online or over the phone 0207 290 7870)
Salon Wine Store, Brixton - running a wine delivery service in South London [email protected] / 0207 501 9152
Urban Cellars (Crystal Palace) – take-away wine & beers. Free local deliveries in SE19 area for 6 bottles or more or spends over £75.
Yardarm, Leyton - Call in orders on 02085562444 for grocery, beer and wine orders for collection. Delivering within 10 mins walk from shop. Shop itself is 1 in 1 out. New menu shortly for heat at home meals. Wed-Sunday 10am-6pm.
Provisions, Holloway Road – For deliveries and pick-up cheese & wine e-mail: [email protected] Opening from 3pm (weekdays) and 12pm (on weekends)
Crouch End Cellars - Open for retail and doing local deliveries.
Highbury Vintners, London N5 – Local and national deliveries
The Grocery - open for take-away, more detail to be found here.
Top Cuvee, Islington N5 - Delivering wine and high-end ready meals to prepare at home via bicycle courier. Order here.
Bull & Last – wine, beer, cook-at-home menu items, and soon essential supplies direct from the kitchen. Take Away – 020 7267 3641
Flying Frenchman – Rustic French Bistro food and natural wine. Take away & delivery. Tel: 020 7923 9828
Clapton Craft and Gnarly Vines (various sites) – Stores closed. Online only, no collection.
Middle Lane Market – Wine, anchovies, beer, coffee, cheese, charcuterie, eggs, and other supplies. Online shop for Click & Collect and local delivery.
Authentique Epicerie, Tufnell Park/Kentish Town - continuing retail Tuesday- Sunday 10am to 8pm for wine, bread, cheese and charcuterie. Delivery menu on website.
Leroy – repurposing as delivery company (meals and wine)
The Laughing Heart - Pickup & Delivery Service.
Jolene – Newington Green -Artisinal bakery
Primeur, Canonbury - repurposing as a food store.
Ottolenghi (group) - as usual partnering Deliveroo
The Cheese Bar – MacDaddy @ The Cheese Bar site with new menu via Deliveroo (Camden area) Also using their cheese trucks to deliver cheese and wine at various drop off points throughout London - [email protected]
Park Road Kitchen - food and wine deliveries. Details of which found here.
Ombra – Restaurant closed but offering pick up or takeaway service, food and wine, with free local delivery (walking distance; £5 if by bicycle) -
Bright - Restaurant closed but offering pick up or takeaway service food and wine with free local deliveries (over £50 purchasing)
Noble Fine Liquor - Wine Shop online orders for local deliveries.
P.Franco- Open for Takeaway Wine & Provisions!
Rubedo - Takeaway of food and wine available, here.
The Collab – Beers, wines, burgers - Online ordering for collection – 020 8521 2984
The Little Wine Shop - take-away as usual.
Harringay Local Store - take-away as usual.
The Bottle Apostle – local and UK-wide delivery (free for over £99) - order online.
Forest Wines - take-away and local deliveries as usual - 020 8281 4428
Burgess & Hall, Forest Gate -taking orders via email [email protected] deliviering locally, minimum 6 bottles.
Cups & Jars, Forest Gate E7 – Open max.4 people in store at one time selling wine, pasta, soap, flour, milk etc. Orders for collection [email protected] before 2pm for same day delivery. Orders for local home delivery before noon for same day delivery (Forest Gate E7 only) - 020 8519 9325
Jerome's Wine Bar, Brockley – doing deliveries.
Prezzemolo e Vitale - deliveries and open in Notting Hill and Chelsea -locations.
Connaught Wine Cellars, Bayswater – Wine store offering deliveries.
Weino BIB – Wine, beer, spirits, milk, eggs, cheese, charcuterie, pickles, etc. Still going for collection and local delivery – 020 75246 123
Theatre of Wine - three stores. Greenwich, Tufnell Park & Leytonstone. Delivery only. Phone and e-mail orders taken. Free UK delivery on orders over £90.
Brindisa Shops - Borough and Balham stores open, offering local delivery. Go to website for deliveries further-afield.
Unwined in Tooting Bec open for local deliveries.
Kensington Wine Rooms and Brackenbury Wine Rooms open for wine, coffee & food to take-away.. Details can be found here.
The Good Wine Shop –delivering only more info here, or call on the below numbers:
Kew: 020 8940 4482
Richmond Hill: 020 8940 4482
Chiswick: 020 8994 8184
Teddington: 020 8617 8070
Vin Cognito – Hand-picked interesting wine selection. Still delivering – contact James on, 07973 600 789
Well Kneaded Pizza, Earlsfield - Pizzeria offering food and wine for take-away and on Deliveroo, t. 020 8051 7862
Noble Green, Hampton – Online orders only.
Roley's Wines, Chelsea - order online here.
AG Wines - Operating as normal (online) contact Alan: [email protected]
Low Intervention – Online retailer specialising in out-of-this-world natural wines and discovery subscription boxes. Nationwide delivery.
Peckham Cellars - Lovingly curated wines from around the world - Online local delivery service just launched.
Streatham Wine House - offer free local delivery on 6 bottles or more, free London delivery over 12 bottles.contact via [email protected].
Clarence Tavern in Stoke Newington. Are offering (local) delivery, Thursday-Sunday, for reheatable meals, wines, beers and spirits, check it out here.
Cartwright Brothers, Borough Market - offering local wine deliveries. call 0207 111 7736 for more details.
Yield N16 - are offering local delivery for beers, wine and pantry goods.They are open for walk-ins (footfall in store regulated). A click-and-collect service should go live next week, watch this space! E: [email protected] or T: 0207 3545912
The Wine Scouts – From daily drinkers to fine wines, in single bottles or mixed cases. Open for online orders, based in South East London and delivery anywhere in mainland UK.
Orasay – Wonderful neighbourhood restaurant, now offering delivery and take away a la carte, set menus, and drinks.
To Be Consumed – Leytonstone, East London. Offering Wine, beer and deli goods. Deliveries by bike to E7, E10, E11 & E12 or contact [email protected] if you're further away. No minimum order. 1 in 1 out of the shop whilst manned.
Micro Beers - East Sheen. Offering a selection of wines, beers and ciders. Delivering to SW13, SW14 and TW9 postcodes. Free delivery for all orders over £50. Contact [email protected] for orders outside above postcodes. No deliveries outside a 3 mile radius.
Oak N4 - We are open Wednesdays 3-6pm and Saturdays 12-3pm for takeaways and collections (Pre-order here) We also deliver locally (within a 3 mile radius) for orders over £100 or 6 bottles. Full list of wines and prices can be found under the By Bottle tab on our website.
Le Querce Daily – Brockley – Currently open: Wednesday to Saturday 10 AM - 8 PM & Sunday 10 AM - 3 PM. A wide range delicious deli products on offer, from ice cream to Italian cured meats and fresh pasta. Delivery is available within 1.5 mile radius, free of charge. Please call to find out time slots. Tel. 0208 690 3761 and click here for a menu and further details.
Cento Uno - Surbiton. Now open for deliveries or collections on Wednesday - Friday Evenings / Saturday Lunch + Dinner. You will be able to pre order your slot from 9am for that evening. We encourage able to pre order your slot from 9am for that evening. We encourage through their website here . Deliveries within a 2 mile radius. Any questions please email [email protected].
Ourglass Wine - Wine discovery club with wide selection of great wines, delivered. Sign up via website ~ https://ourglass.wine/subscriptions
Brunswick House - Vauxhall, London - preparing food, wine & cocktails to be collected or delivered to you, and have converted the space into an Urban Farm & Bottle Shop, offering vegetable, meat, dairy and pantry good from some of their favourite suppliers. Find out more here
Morito - We are open on Fridays 12-7 for collection only of wines and some other items plus takeaway coffee. Find out here.
Ham - West Hampstead - is a casual, friendly, local restaurant offering simple but imaginative modern British food, showcasing excellent seasonal ingredients paired with a thoughtful selection of wines. Order for collection at: https://www.hamwesthampstead.com/
Riding Wine Company, Ealing - Open for delivery and takeaway. More information to be found, here.
HERTS
Twisted Cellar, Bottle" tab on our website ishop's Stortford – operating online only.
The Wee Vinoteca – Hitchin, Herts. – Hand-selected wines and themed wine boxes/subscriptions. Online ordering still running – 01462 454 881
Fleetville Larder - Hatfield, Herts. - Offering free local delivery on all their deli good, cheese, wine and beer.
Fox and Hounds Hunsdon - Hertford, ready meals for collection, delivery and pop up terrace shop.
ESSEX
Vino Vero, Leigh-on-Sea – free local delivery.
Joseph Barnes, Saffron Walden – wide range of wines. Telephone 01799 528019; Email [email protected]
NORFOLK
Bijou Bottles – take-away & free wine delivery within 20m radius of Norwich. t. 01603 784990
SOUTH
Infinity Foods – food & wine store. Looking into local delivery.
Ten Green Bottles – take-away or home delivery. t. 01273 567176
Flour Pot Bakery – take-away or deliveries bread, pastries, coffee beans, juices
Sign of The Vines – offering a list of natural wines from us – same day delivery – [email protected] – contact is Ben Smith
Bottle & Jug – Worthing (beer & wine) take away or free delivery UK-wide 07552 164518 or online
Three Legs Brewery – beer & wine deliveries from Hastings to Worthing!
Eggs to Apples – food, beer, wine to take away and delivering locally - 01580 860566
Tillingham Wines - shop open for wine orders with delivery.
Iden Village Stores, Rye - open with reduced hours.
Horsham Cellars – Offering free local delivery from £20
Solent Cellar, Lymington– free local delivery - 01590 674 852
Les Caves de Pyrene, Guildford – delivery nationwide, order online here.
Godalming Food Company – local food deliveries.
Growlers & Cans, Guildford – craft beers and wines available for collection.
Le Pinardier, Deal, Kent – doing local deliveries.
Seven Cellars, Brighton - Operating as normal - [email protected]
Symposium Wine Emporium (Lewes), will continue the retail side so will be open for takeaway wine, beers and spirits and are happy to deliver in Lewes and the surrounding area. contact 01273478933 or email: [email protected]
Iden Village Stores (Iden nr Rye) - Operating as normal - [email protected]
Hannibal Brown – Operating as normal (online). Contact Pam and Jude: [email protected]
Pullo Shop, Exeter – Offering a local delivery service - Alex [email protected]
Smith's, Exeter – Operating as normal -[email protected]
Cellar Magneval (Woking) – The bar is shut but offering local delivery. Contact Thierry and Jo [email protected]
Corkage (Guildford) –Offering local delivery, email Andy [email protected]
The Godalming Food Co. (Godalming)– Operating as normal and offering local delivery -[email protected]
The Grape Variety (Chipstead) – Offering local delivery, email Matthieu/Thomas [email protected]
Wined Up Here (Norbiton) – Operating as normal - [email protected]
7000 Jars of Beer (Kingston) – operating a click & collect service, as well as a home delivery service, email Susie/Goran [email protected]
Toscanaccio (Winchester) – Local deliveries, contact Cat [email protected]
Luc Purveyor of Fine Foods, Hampshire – Online store. For more detail email Luc [email protected]
Tasting House (Reading) – Offering local deliveries - [email protected]
Little Swift - Margate, delivering wine, beer and preached cocktails across Kent. Tel: 07966 516128 https://www.facebook.com/LittleSwiftCT9
Cuculo Delicatessen - Heathfield, East Sussex. Delivering artisan produce and wines locally. Tel: 01435 862596
WEST
No 2 Pound Street, Wendover, Bucks – open and trading.
The Grape Escape, Cheltenham – Off sales only. Free delivery and kerbside collection.
Tivoli Wines, Cheltenham – Operating online with delivery service.
Two Belly (Bristol), Provisions, Cheese, Beer and Wine — open and delivering - 0117 973 8702
Monty Wines, Bristol - Free UK delivery over £100
Corks of Cotham, Bristol – Delivering. Minimum spend £60 for free delivery: t. 01179731620 e. [email protected]
Bakers & Co., Gloucester Road, Bristol - Provisions store selling wine, beer, bread, eggs and coffee
More Wine, Somerset - Bag in box and pouch wine specialist - e. [email protected]
At The Chapel, Bruton – will be doing take-out and delivery, watch this space
Eight Stony Street, Frome, Somerset – Wine, Pizza and Beer, free local delivery
Beckford Bottle Shop (two locations) Tisbury, Wiltshire & Bath, Somerset – Wine delivery within 5-mile radius of each store. Bath store 01225809302 [email protected] / Tisbury 01747870947 [email protected]
Wine & Greene – Totnes, Devon - Specialist wine merchant open for online and phone orders. Also offering combined delivery with local butcher - 01803 467 267.
Dorset Wines – business as usual. Free deliveries in Dorset
Museum Wines, Dorset – South African wine specialist. Business as usual - online.
Ellis Wharton Wines, Indian Queens (central Cornwall) -- big range of wines and spirits. Next day delivery – free for orders over £150
Xisto Wines - Bristol family run Portobristol by Xisto Wines brings artisan authentic wines from Portugal right into Bristol's historic harbour by sail cargo ship, making wines as good as local. Fossil fuel free transport. Stocks some very special wines. Deliveries are made by electric van UK wide. Order via: Xisto Wines website and Tel. 07980616927
CENTRAL & MIDLANDS
Hamblin Bread, Oxford – open for takeaway only, email Hugo for details: [email protected]
Vorrei, Cambridge - for deliveries, click here.
Bacchanalia, Cambridge - deliveries
Beer Gonzo, Coventry - wholesaler go online.
The French Wine People, Nottingham - online deliveries
Terra Wines, Leicester - orders being taken online.
Grace & James, Birmingham - offering local deliveries, here.
Wine Freedom, Birmingham - operating online with deliveries
Iron & Rose, Shrewsbury - Offering free local delivery (Shrewsbury and surrounding area) for orders over £75. Look online or contact [email protected]
Say It With Champers - A personalised Champagne business based in Bury St Edmunds, still operating and doing wine deliveries. More details here.
THE NORTH
Fourteen Drops, Yarm, Stockton - deliveries/open 12-6.
Kork and Deli Wine Shop, Whitley Bay – doing deliveries insta @korkwineanddeli
BuonVino, Austwick, Lancaster - Website only – local delivery and courier services.
R&H Fine Wines, Liverpool - deliveries - (no set delivery charge – around 3 working days)
Reserve Wine Shop, Manchester – online
Bunch, Liverpool, deliveries – offers free shipping on deliveries over £100
Higher Ground, Manchester - food and wine deliveries.
Latitude, Leeds - deliveries only.
Elm, Sheffield - for deliveries go here.
Firth and Co., Northallerton - online
Cave du Cochon, York, Food and wine. more details here.
Friends of Ham, Leeds. Food and wine - click here.
Once Upon a Vine, Leeds - delivering locally
Kwas Wine Shop, Huddersfield - deliveries here.
StarmoreBoss, Sheffield - operating online
The Wine Shop, Knaresbourough - offering deliveries. Contact here.
Wayward Wines, Leeds - operating online. Free deliveries in Leeds postcodes (LS2-8) over £30 and UK on orders over £95.
Three Pillars Wine - Eccleshall, Staffordshire – Independent Wine Merchant doing free local delivery.
Block & Bottle - Just moved to Newcastle from Gatehead - A butchery and beer bottle shop offering deliveries to NE1 to NE11 (exept NE5) more details here
WALES
Chesters Wine Merchants, Abergavenny – Running delivery service Thursday, Friday, Saturday 01873856565 // [email protected]
Fauvette, Penarth – Offering deliveries locally for wines, cheeses, olives, and artisan bead.
Wrights Independent Food and Wine – Online wine ordering
SCOTLAND
L'Art du Vin – free deliveries anywhere in Scotland from £100
Excel Wine Cellar, Perth - online
[email protected] | [email protected] | 01483 538820