Calcarius: Organic, Terroir Driven Wines from Puglia
Calcarius are based in Apricena, in the northern region of Gargano, Puglia (just south of Abruzzo). Valentina Passalacqua oversees a farm comprising 80 hectares of vines, fruit and vegetables. This project bears the fruits of patient observation, attention to terroir, and a commitment to indigenous varietals. The vineyards are characterised by kimmeridgian calcareous soils (thus Calcarius) and are true wines of terroir - mineral, tense, and uncompromising. Valentina has been the leading exponent of biodynamics in Puglia since 2000.
The vineyards of Gargano are rooted in the Magna Grecia, as Ovid referred to this region which had been settled by Hellenic settlers from the 8th century onwards. The grape varieties are the fruit – as it were – of this historic fusion of two cultures, being Nero di Troia, Greco Bianco, Bombino, Negroamaro and Aleatico.
The wines are naturally made with ambient spontaneous alcoholic fermentations, which Valentina describes as:
A processing of mineralization…the salts present in the grapes in an organic form turn into mineral inorganic components. The unstable composition of the must acquires a new stable and mineralized form in the wine.
Maturation in inert, stainless steel vats is the order of the day, ensuring the fruit and the soil are the primary focus. Throughout the wines exhibit a restraint, without lacking fruit or depth, a deft sleight-of-hand which while not immediately evident in the wine (which speaks for itself) is clearly a result of the tireless work made of liaising with the land. A lesson in holding back, being assuredly non-interventionist in field and winery alike.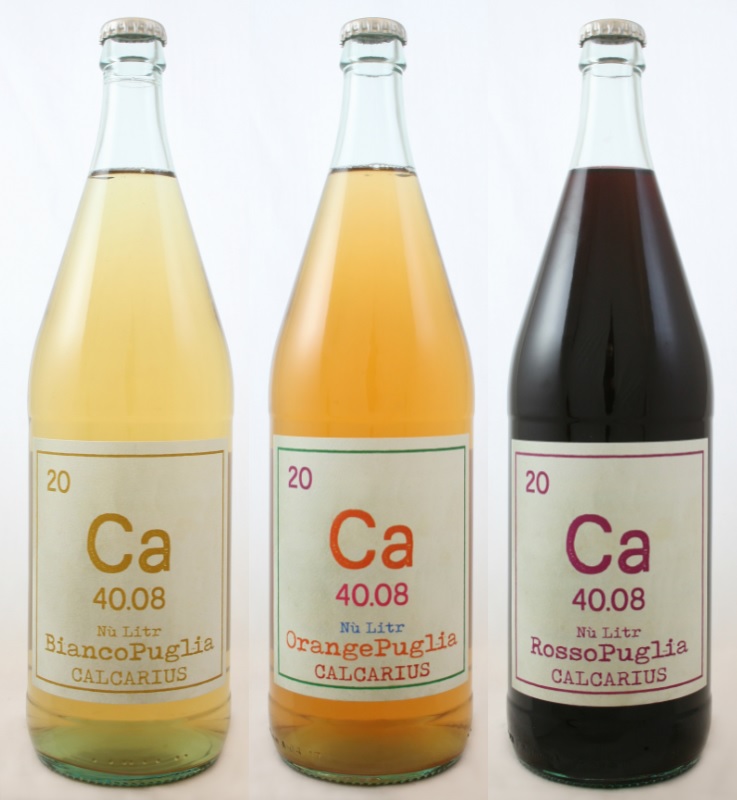 The Calcarius Bianco is Bombino Bianco. Though Bombino (meaning small bomb) Bianco shares many synonyms with Trebbiano Toscano (also known as Ugni Blanc), the two grapes are unrelated. Marked by ripe lemon and that characteristic Mediterranean fleshy golden-yellow fruit – think apricots, both flesh and skin. The crunchiness is exalted by the limestone/seashell minerality and then fills out on the mid-palate before the salty finish.
The Orange is a tasty maceration of Falanghina, a ray of Puglian sunshine, tantalising and tangerine-y. The Rosso is 100% Negroamaro, while the Roz is a dark pink blend of Aleatico and Nero di Troia. Helen Bianco is Greco and Hellen Rosso, pure Nero di Troia.
The calcareous terroir is the style in each and every wine. If chalk is your ball of chalk, these wines talk the chalk. Three of the wines are bottled in litre format, a statement, perhaps, of their elevated and elevating drinkability.
N.B - The numbers on the labels refer to the chemical element calcium (Ca), its atomic number 20, and atomic weight 40.08.
Interested in finding more about the wines of Calcarius? Contact us directly:
[email protected] | [email protected] | 01483 538820