VOX VINO-POPS
The Cavistes decant their favourite wines of the New World Discovery Tasting.
DIDIER CAPPA: "For me it would be Clos Saron, the two Cinsault (Blue Cheer & Out of the Blue) cuvees and the Carte Blanche white blend. Authentic, real wine, freshness and depth. I liked the Mirabai Pinot Noir from Kelley Fox wines for its easy delicious fruit and the Maresh Vineyard for its elegance and structure. Populis white (Chardonnay-Colombard) and Populis red (Carignan) were well made and very drinkable."
Black pepper notes sit alongside red fruits and dried herbs. This is really quite exciting.
Ambyth Venustas, floated WILL JOHNSTON's boat. "Italy meets Spain in this stunning Italo-Iberican blend. Mineral and complex, this sees acid find tannin in harmonious balance." Les Lunes Populis Red 2014 was "a deliciously juicy/fresh number that delivers great drinkability", whilst Clos Saron Heart of Stone Syrah 2009 elicited the following laudatory note: "Black pepper notes sit alongside red fruits and dried herbs. This is really quite exciting. Regrettably it's the last vintage ever produced."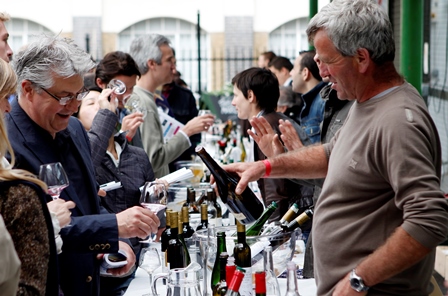 JAMES BOARD loved both wines from Bow & Arrow especially the Gamay Noir 2014: "Juicy and pure - a wine I would really enjoy to drink". A big thumbs-up for Pyramid Valley Rose Riesling: "Herbal, pithy and mineral with distinct notes of tea leaves? ? I haven?t tried this for a while so it was great to revisit."

Kelley Fox wines were "all very good especially Momtazi & Maresh" according to our James, whilst the Gruner Veltliner Johan from Minimus was "impressive with super varietal character and a core of earth and spice on the palate". Cream of the crop? "Both of the 2009 Syrahs from Clos Saron were incredible - probably the standout wines for me."
LINE MOULLIER was also a fan of Clos Saron: "I really enjoyed Blue Cheer Carignan Cinsault. Fresh and elegant, with great fruit on the palate, well-balanced acidity and a lovely finish." She was particularly enthusiastic about the Pyramid Valley wines, "especially because of the really mineral edge they have, almost like being in a bag of sea shells! Wonderful floral notes as well".

DARIO PODDANA, meanwhile, was bonding with the La Clarine wines. Of the 2014 Albarino: "An Albarino in a mountain desert that should be enough to make it lovable. No maritime, rainy, cool etc etc environment here! Nevertheless, despite the bigger weight than a 'typical' albarino, it keeps all the aromatic freshness of the grape, but with extra concentration." Jambalaia White 2014 found favour: "More weight here, but you really can get the winemaker's idea of simple, fresh, straight to the point of drinkability wines." Nor was he fazed by the wonderfully distinctive Ambyth Grenache Blanc: "The Grenache is rich on varietal character, but it has a terrific acidity and freshness, which makes it stand up from a classic 'dull' version of the grape. Maybe it is the amphora ageing, or a touch of VA, not sure, but I loved it!"

Beyond the US, Dario gave a heartfelt mention for the wine of one our South African producers. "I have a special connection to Craig Hawkins' Testalonga King of Grapes Grenache. It is by far the wine I loved the most in SAF, and every time I try it there is something new that I like about it. This time it had a richness of fruit I could not remember, supported by the usual terrific acidity. And it gets more gluggable every time I try it."
For MADDIE BRYETT there was one clear winner: "Kelley Fox (I had no idea that her Pinots were so awesome). How can one have the palest and prettiest dusky pink colours with such an intensity of flavours? The Maresh Vineyard Pinot Noir was simply divine."

Her other nomination was Jeff Vejr's Golden Cluster old vines Semillon. "I also had a big soft spot for the Golden Cluster Charles Coury Semillon from Willamette Valley - so subtle/delicate and pure, such a refreshing change from a grape variety I usually find overly rich and textured or too green."

CARLO LUPORI summed it up perfectly. "I was very impressed by the diversity of wines overall, loads of different grape varieties and different expression of soils. It really makes me want to go for a journey in to both regions, California and Oregon."

He was "very impressed by the outstanding depth and complexity of wines from Oregon", highlighting the Gamay Noir from Bow & Arrow, "a wine with deep minerality, fleshy and juicy fruit combined with great complexity and beautiful drinkability. Pure silk."

He also praised "the extraordinary range from Clos Saron, real finesse, especially their youthful Cinsault (from super old vines), complex but also very approachable with a sense of honest and humble winemaking. I loved the Populis wines too, very serious, a great value for money, with a sense of respect of the varieties, great to see Colombard vinified with Chardonnay, perfectly matching, lifting the bold Chardonnay."

Finally, Carlo extolled the virtues of "the brave super natural wine making of Ambyth Estate".

DOUG WREGG was delighted with the diversity of the wines. "I spent all day with the Oregon wines and fell in love with them again. Ovum Do I Move You Gewurztraminer was enchanting with its golden-hued autumnal fruit, exotic and harmonious; Jeff Vejr's Golden Cluster Coury Semillon tantalised the palate and toyed with expectations with its golden appleskin segueing into honeydew undercut by ripe acidity. The pretty-as-a-picture coppery-pink, Beckham Estate Pinot Gris Creta unveiled layers of complex orchard fruit flavours overlaid by notes of dry honey and sweet spice. Chad's (Minimus) wines were huge fun - the Blaufrankisch Cecilo would stand comparison with any comparable Austrian version of this grape.

"The brace of Bow & Arrow reds were jaunty and juicy, the crunchy dual-Cabernet Air Guitar as good an Anjou-Villages Rouge that ever holidayed outside the Loire. Kelley Fox's trio of Pinots conveyed the beautiful personality of their vineyards. I could never choose between them but, on the day, the pink-tinged Mirabai with its pearly purity and tonic thread-pulled-taut stone-fruit brought a big smile to my face."